Jae seok
music Tech portfolio
About me
My name is Jae Seok and as a child growing up, I was always interested in retro style video game music. Whenever I am creating music I always try to implement any sort of techno beats or remixes into my projects. My music is a lot more techno than any other music made today. I always try to make music that is really diverse. How am I a musician today deals with me adding funny or comedic themes to my songs. The best way to get your audience to listen to your music is too draw them in and the best way for me to do that is too add something odd or interesting at the beginning, middle, and end so they do not get bored. I love getting feedback and listening to people talk about my music. Hearing criticism is what motivates me the most. Even hearing negative comments makes me work even harder because I know what to improve on and what to work on. If I had to relate to a genre it would be house. House relates the most to retro style music and not only does it represent my music but also my childhood. I love the sound of that kind of style and always try to push my projects to that level. It sounds amazing to me and I just cant stop listening to it.


My Senior Portrait 2017
---
Powered by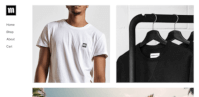 Create your own unique website with customizable templates.